Alternative Procedures that Deliver Results
Non-Surgical Treatment Scottsdale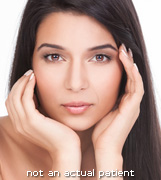 Though we focus on facial cosmetic surgery procedures at New Image Plastic Surgery, we realize that for many, non-surgical treatment options would be of benefit. At our Scottsdale practice, we offer dermal fillers, skin treatments, BOTOX® Cosmetic, and lip augmentation; if you have considered rejuvenating your appearance, but are either hesitant to undergo surgery or would like to correct only a minor issue, our non-invasive, non-surgical options may be for you. To schedule a consultation or to learn more about our non-surgical treatment options, contact our Scottsdale plastic surgery center today.
BOTOX® Cosmetic
Squinting, furrowing the brows, and raising the eyebrows repeatedly, combined with chronic sun exposure, can lead to wrinkling of the forehead area as well as "crow's feet." One option for softening the appearance of wrinkles and diminishing their progression is to treat the areas with injections of BOTOX® Cosmetic. Made from a botulism toxin which paralyzes the mobility of the injected muscles temporarily by blocking the receptors, BOTOX® Cosmetic is an effective wrinkle treatment. . This keeps facial expressions from exacerbating the wrinkles being formed in the face. Over time (3 -4 months, although results vary) recovery occurs and mobility returns. Although variable, repeat injections can lead to longer periods of time before recovery occurs and less complete return of mobility. Injections are performed in small increments in the desired locations with minimal localized risks. For those seeking non-surgical treatment options in the Scottsdale area, BOTOX® injections at New Image Plastic Surgery are one such option.
Injectable Treatments and Laser Resurfacing
If you are seeking a smoother skin complexion, to eliminate or reduce the appearance of wrinkles, or to fill out hollow areas beneath the skin, injectable treatments and laser resurfacing may be for you. We are proud to offer these non-surgical skin treatments at our Scottsdale practice, as they can dramatically transform a person's appearance, and results can last up to a year. By increasing volume beneath the skin of larger wrinkles like those found around the nose and mouth through the use of artificial filler or increased collagen production, dermal fillers can even the skin out and make it appear years younger. Laser resurfacing can lift age right of the surface of the skin as well, with sun spots, age spots, and other skin blemishes being corrected by this advanced technology. Ask Dr. Henderson about getting the treatments together, so you can reduce deep wrinkles and renew your skin for a beautiful look that defies age.
ThermiRF™
ThermiRF™ is the latest addition to the non-surgical treatment menu at our Scottsdale practice. This technology uses radiofrequency waves to heat the body's tissues to precisely-controlled temperatures. Different tissues have different patterns of sensitivity to heat, allowing the treating doctor to target specific tissues. For instance, fat cells can be targeted, while skin cells are left healthy. ThermiRF™ can be used to stimulate collagen production in the skin, leading to skin tightening through the body's own natural process. There are several different systems that use the ThermiRF™ technology. We offer three in our clinic: ThermiTight®, ThermiVa®, and ThermiSmooth®.
Learn More about Our Non-Surgical Treatment Options
We invite you to contact Dr. Pamela Henderson today if you would like to schedule a consultation. We offer a number of non-surgical treatment options, including dermal fillers and BOTOX® Cosmetic, at our Scottsdale, Arizona practice, as we realize that our patients have diverse needs.